News
Posted on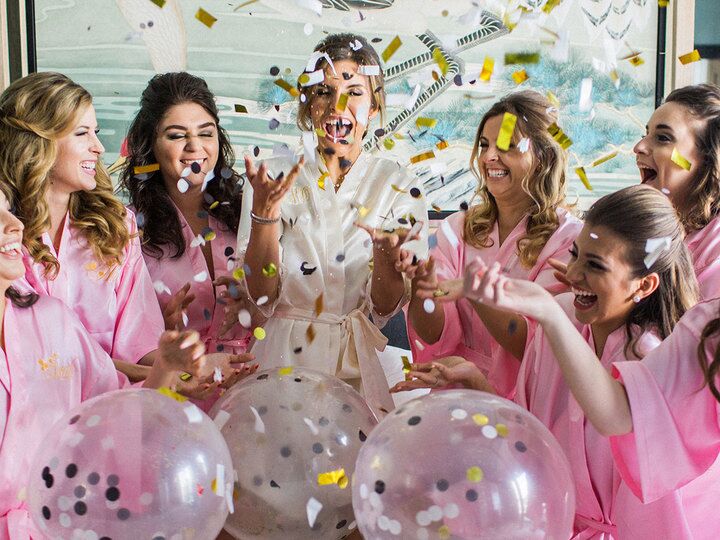 We know that asking your bridesmaids to pay for certain things can be tough, and it can get awkward when your expectations don't line up with theirs—especially when they're doing so much to support you already. Whether it's coordinating the bridal shower or bustling your dress at the wedding, be honest about what you expect from your crew, up front about all costs associated with their commitment, and willing to compromise wherever you can. If you're gracious and understanding, they will be too. To get the conversation started, here's a complete guide to what bridesmaids are and aren't typically expected to pay for.
Traditionally, how your bridesmaids get to the wedding and where they stay is on them, but they should feel comfortable discussing their financial needs with you.
Wedding Ensemble
Bridesmaid dresses, shoes and accessories (including jewelry, unless you're gifting it to them) are their responsibility.
Bridal Shower Gift
One wedding gift is usually enough (see below) and a bridal shower gift is by no means required. But if the party has a fun theme like a lingerie swap, it's possible to participate without purchasing a huge gift off the registry—or another huge gift altogether.
Bachelorette Party
Your pals are responsible for all décor, activities, food and drink on your hen night.
Wedding Present
In money, time and effort, your bridesmaids are paying for a lot, so don't be shocked or offended if they don't get you a wedding gift. If they do plan on gifting you something, they can always go in on one thing with other bridesmaids. You might prefer to receive one nice gift over several less expensive ones anyway.
Read more here - https://www.theknot.com/content/what-bridesmaids-p...
Your guests have traveled from near and far to celebrate with you on your wedding day. While you and your spouse are truly the guests of honor, it's important that you show your appreciation for you family members and friends who have loved and supported you through it all.Read more here - https://www.weddingwire.com/wedding-ideas/etiquet...
Valentine's Day gave you an excuse to show your significant other just how much you love them. Maybe it was a dozen red roses, a box of chocolates, or an engagement ring. After this infamous dinner and movie-night out over the weekend, WeddingWire's #JustSaidYes contest reached over 8,000 entries from couples.Starbucks Drinks For Two @tollilolli [...]
The Couples' Choice Awards recognize the top five percent of wedding professionals on WeddingWire who demonstrate excellence in quality, service, responsiveness, and professionalism. The prestigious awards are given to the top local wedding professionals across more than 20 service categories, from wedding venues to wedding photographers, based on their professional achievements from the previous year.The [...]
Bill Levkoff Bridesmaids has a new Budget Line of Dresses #LEVKOFF. Priced below $150 by Bill Levkoff! Bella Mera Bridal is offering Free Extra Length and No Charge for Plus Sizes on this collection and a low Rush Price online.https://www.bellamerabridal.com/levkoff-bill-levkoff-bridesmaids-150/
If you're thinking that a ring is in your future, you're probably wondering when your significant other is going to pop the question already! Turns out there are several dates throughout the year that are most popular for proposals and engagements—particularly around the holiday season. After all, what could be a better gift than a [...]
We wish you the best and safe Holiday Season with ending of our 2016 year! We are closed from 12/22-12/27/16 for Christmas.
Let it GLOW, let it GLOW, let it GLOW! Experience the sparkle of the season at the 3rd Annual Georgetown GLOW, the region's only curated exhibition of outdoor public light art installations. Expanding from a 10-night to a month-long exhibition running from Friday, December 2 through Sunday, January 1, Georgetown GLOW's 2016 works will be [...]
With bridesmaids in different states, time zones & work/family schedules, this option will ease some time and maybe some stress for some ladies. This method keeps everything in one place, one company to work. When you pre-register ahead of time; each person can place their own order & ensure all your orders come into one [...]
The largest wedding gown cleaning/preservation expert in high quality preservation, you can trust Memories Gown Preservation with over 4,000 review from customers, its trusted and reliable.Read more here: https://www.bellamerabridal.com/memories-royal-go...Memories Royal Gown Preservation KitRoyal Preservation Kit includes Instruction sheet, Service request form, and Dress bag Pre-paid order and shipping to our gown cleaners and back to your homeEarth-friendly [...]