Welcome to our veil guide. The wedding veil guide is for reference to give you a guide for purchasing a wedding veil on our website. When it comes to length, it will depend where you place the comb on your head, if you put the veil comb at the back of your neck, it will add a few inches, if you put veil comb higher it will remove a few inches. Please contact us if your unsure, we would more then happy to assist you.
Bel Aire Veil Length Guide = Elbow Length 32" Inches, Fingertip Length 38" Inches to 42" Inches, Knee Length 48" Inches , Waltz 60" Inches, Floor Length 72" Inches, Chapel Length 90" Inches and Cathedral Length 108" Inches.
Ansonia Bridal Veil Length Guide = Shoulder 20"- 22" Inches , Elbow Length 30"- 34" Inches, Fingertip Length 38"- 42" Inches, Walking/Waltz 60"- 70" Inches, Chapel Length 90" Inches and Cathedral Length 108" Inches.

Yes, the combs are already on the wedding veil & ready to wear. Some veils like Mantilla Veils offer optional combs or you can request one be removed for some collections.

The bridal veil clip is different then the comb, the cost is $5 - $7. It's a small hanger for your wedding veil. It clips right on the comb of your wedding veil for easy hanging, streaming or storage. The Bridal Veil clip is an option.
This is a Bridal Veil Clip (You can add this to your cart in your product options or CLICK HERE to purchase)

Yes, we have a custom wedding veil garment bag, made just for wedding veils. It can be found HERE to purchase the bag only. It's best used with the bridal veil clip, so the veil has something to clip to. You can purchase the Wedding Veil Garment Bag and Clip Together CLICK HERE to purchase. We also have Cathedral Veils Garment Bags or Fabric Wedding Veils Bags, CLICK HERE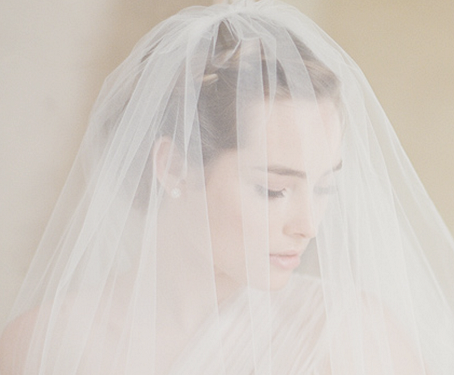 Yes, please see your veil product details and see the pricing. You read more detailed info below. We can add many types cut edge blushers, rolled edge or even a blusher to match the beading of your 1st layer. We do have an area of two tired wedding veils, See here: TWO TIER OR LAYERED VEILS

Yes, we offer Wedding Veil and Wedding Gown Preservation Services. The kit ships direct to your door and you ship to our Trusted Cleaners since 1913! We are an Authorized Retailer for Wedding Gown Preservation Company & Memories Gown Preservation. Learn More or purchase the Gown Preservation Kit HERE. HOW TO CARE FOR YOUR WEDDING VEIL OR HEADPIECE

Gowns Designers, Boutique Atelier's and Manufactures now supply new color options for veils then the traditional veil colors. We offer wedding veils in many colors and trims for more expansion of our veils, from colors such as champagne wedding veils, blush wedding veils to rum pink, we offer the most custom options for your wedding veil and we can an offer Rush Services for a custom change to your veil. We can add blushers to most wedding veils.
Collections by: Bel Aire Bridal Veils, Giselle Bridal Veils, Erica Koesler, Noelle & Ava, Ansonia Bridal Veils, LC Bridal Veils, Elena Designs Veils and more!
Blush or Pink Wedding Veils= Delicate Hue Of Pink
White = Stark White like snow or white as plain white paper
Diamond White = Ivory and White dye forming a delicate cream color (Some consider this very light ivory)
Ivory = Has more of a yellow undertone, more then Diamond White
Light Gold/Gold = More golden then Champagne
Latte = Brown tones
Champagne Wedding Veils = Understated light beige with delicate golden tone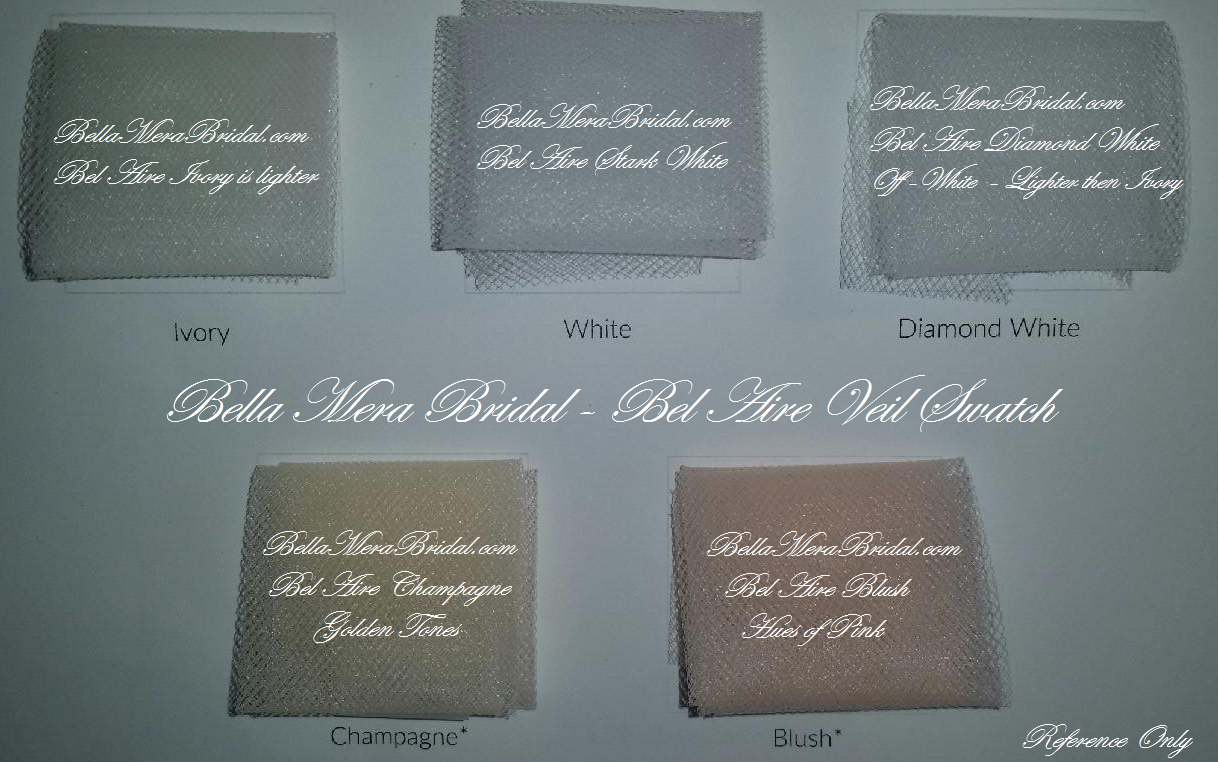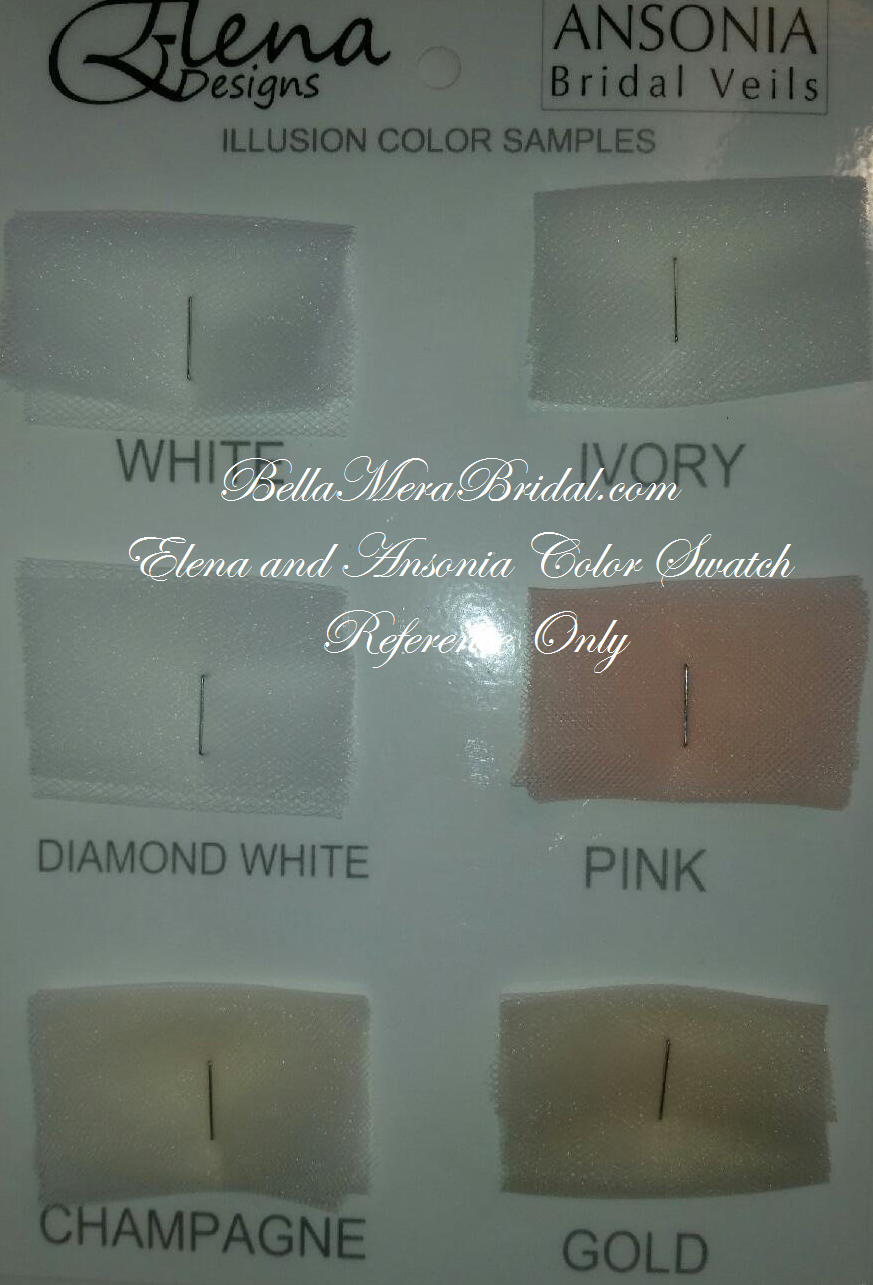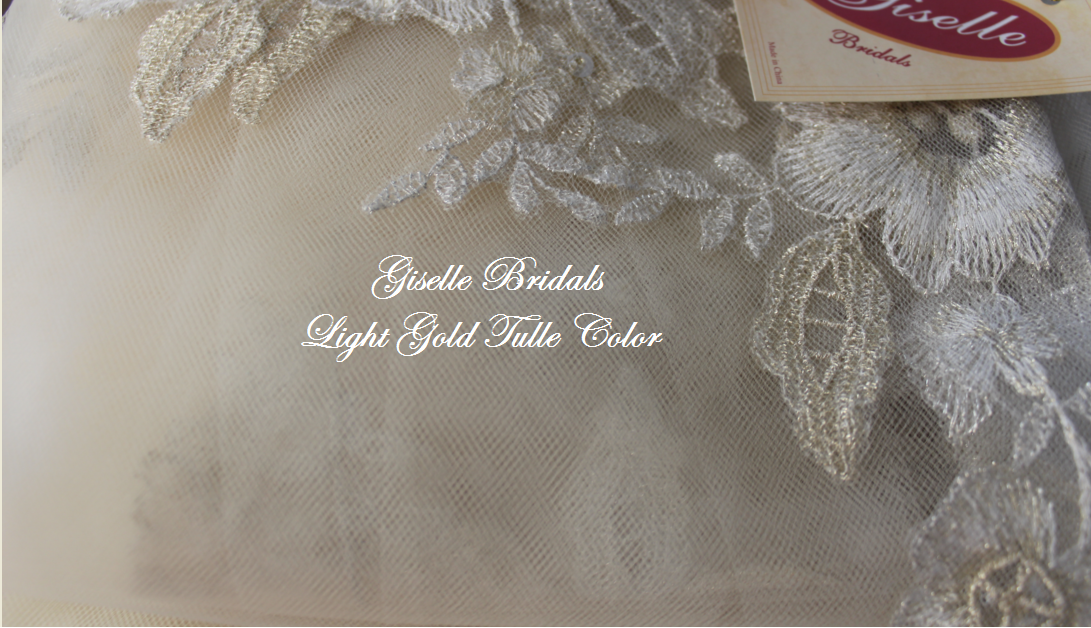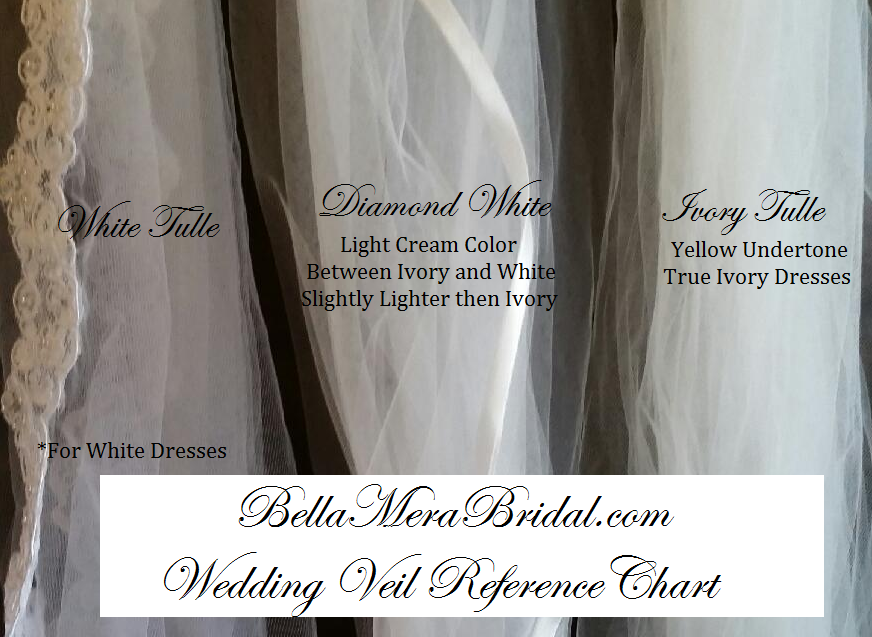 Yes, some options are available depending on the collection. If you see a wedding veil on our website that you might want to shorter or longer, just ask us or if you need a special color, we will quote you a price. 95% of our veils can be shortened and add length can take longer for shipping.

A blusher is the portion veil that is worn over the face during the wedding ceremony, that you wear down the aisle covering your face. This can be the top layer of a two layer veil or it can be a sole separate piece of veil made specifically as a blusher only that you can remove after and still have your veil in place. We can also add a detachable velcro blusher instead of sewing one on so you can easily remove it after the ceremony. Wearing is preference, tradition or cultural usually. Some ladies add extra tiers as blushers to add more poof to the veil. We can even make a two tier veil a three tier veil.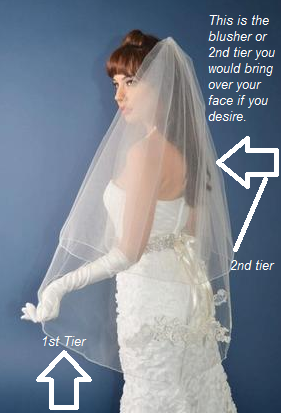 This is a great option to change the look of your current veil plus remove the blusher after the Ceremony. If your interested in the Detachable Blusher. Please contact us/add the option at checkout. (Only Available for veils you are purchasing with us). Most options/prices are available on the actual product, you can order it HERE.
Here are actual photos of the detachable blushers.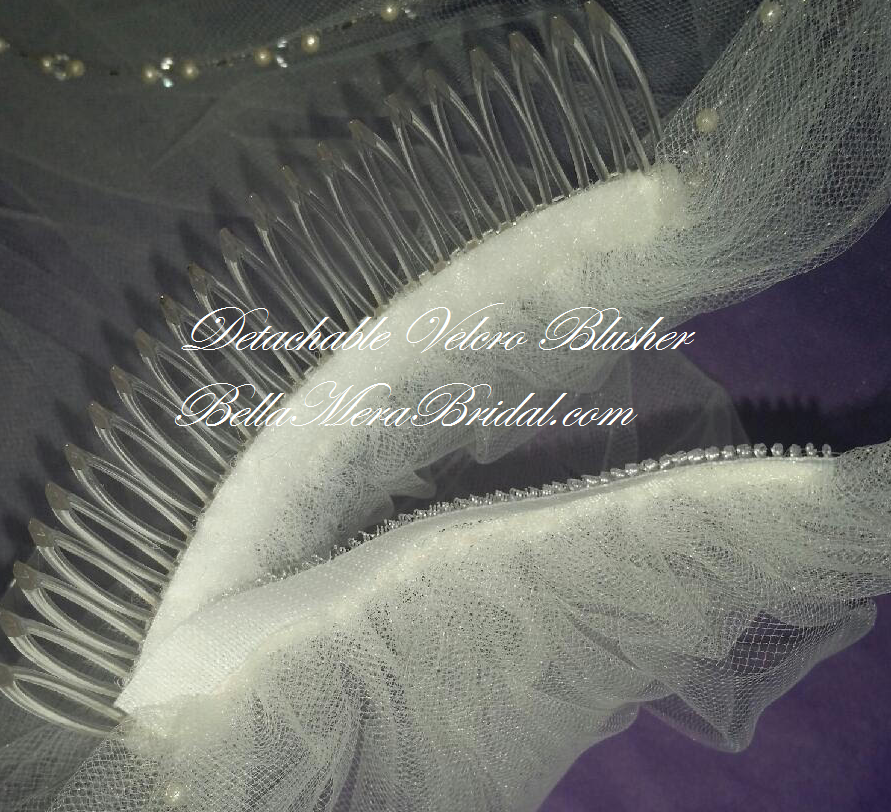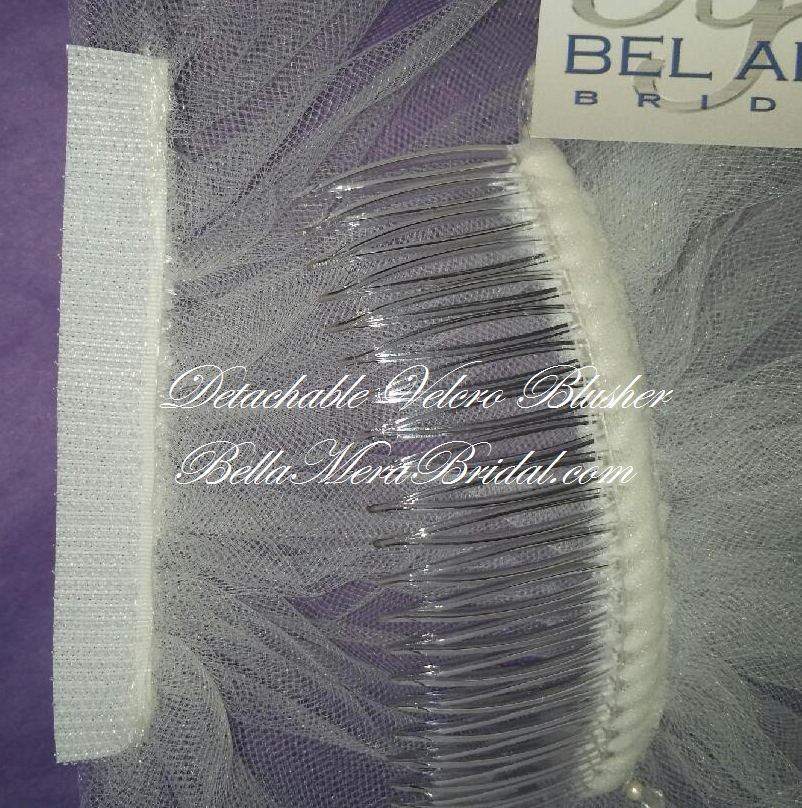 Cut Edge Cathedral Veil
Cut edge is simply no design, no beading, just a raw cut edge
Rolled Edge and/or Pencil Edge
Simple finished edge
Bel Aire Veil Style V7198
Rolled Silver Edge
Finished Silver Thread edge with silver accents
Double Row Organza Ribbon Edge
Organza is more sheer and flexible

Erica Koesler Style 833-100
Scallop Cathedral Lace
Erica Koesler Style 838-100
Horsehair Edge
Horsehair is very sturdy and much stronger in feel and look then the organza edge.
Erica Koesler Veil 884-100
Bel Aire Style V7192 (Double Row)
Top Seller Bel Aire V7308 Horsehair Edge
Soutache Edge
Bel Aire Veil V7173
Ribbon Edge with a Cascade Cut
Bel Aire Veil V7303
Chantilly Lace Edge Veil
Bel Aire Bridal Veil Style V7359
Silver Embroidered Beaded Edge
Bel Aire Veil Style V7361
Wave Edge Beaded Veil
A similar look to scallop but more a wave pattern with deep curves
Cathedral Length Veils
The Cathedral length veil is the longest and most formal wedding veil. It is the ultimate show stopper and looks best when worn with a cathedral or semi-cathedral length gown. The cathedral length veil is perfect for the dramatic bride, having a formal event and a long aisle to walk down. It usually measures between 108 to 120 inches.
Bel Aire Bridal Cathedral V7377C - 108" Inches Long

Bel Aire Bridal Cathedral V7234C - Two Tier Fold Over

Bel Aire Bridal Veils V7262C - 2-tier foldover lace veil - Cathedral
Birdcage Veil with Blusher

The traditional birdcage veil is a short veil that extends just below the chin of the bride; however, a new way to wear it is to crop the net so it falls just below the eyes or to sweep it asymmetrically across the face. The birdcage veil is a dramatic, modern, and unique choice of veil. The bride must have a vibrant and fashion-forward personality, as well as, be a bold and confident woman.
Marionat Bridal 4589 - Birdcage Veil
A birdcage veil is made of French, Russian, or English netting. The size of the squares that make up the netting is what differentiates the three classifications, with the French netting being the tightest weave with the smallest squares and the English being the largest squares.
Shoulder Length Veil, also called the Flyaway Veil
The shoulder length veil measures approximately 18 to 22 inches in length. A shoulder length veil is perfect for dresses that have a lot of details, such as beading, on the bust, waist or lower back. It doesn't compete with the details and allows them to be seen by guests and easily photographed. Shoulder veils are great for less formal events, where the bride wants to show off her beautiful dress.
Bel Aire Bridal Veils V7266 - Shoulder Length French Net Veil
A great version of the shoulder length veil is the flyaway veil. It is for the more "spunky" bride that wants her wedding to be all about fun and fashion, and less about tradition. This is a multi-layered veil that brushes the shoulders, measuring 18 inches in length. It is a less formal style of wedding veil and a great choice for brides wishing to emphasize the back details of their gown and for an ankle length wedding dress.
Fingertip Wedding Veils
The fingertip length veil is the most commonly worn style, because it is universally flattering on every size and shape of bride, as well as it coordinates well with the majority of dress styles. This popular veil is called fingertip length because it is approximately 36 to 45 inches long and extends to the bride's fingertips.
Kate Middleton wore an absolutely gorgeous silk tulle fingertip length veil when she married Prince William on April 29, 2011. The length of her veil was a unexpected surprise, yet, it was perfect compliment to her delicate figure and elegant dress. Most people expected a cathedral length or regal cathedral length veil, but Kate's choice to wear a beautiful fingertip length veil enabled her to show off her stunning Alexander McQueen gown while maintaining the formality of the Royal Wedding.
Bel Aire Bridal Veils V7310 1-tier rolled edge fingertip veil with Alençon lace appliqués
Bel Aire Bridal Veils V7300 - 1-tier veil with Alençon lace
Circle Cut Veil also known as Fold Over Veils
The veil is cut in a circular shape, folded in half, and gathered in the middle to form a veil. The sides of the veil fall in soft folds. The bottom edge of the veil has a continuous edge. This is always a two layer veil.
Bel Aire Bridal Style V7262
Angel Cut Veils
Marionat Bridal Wedding Accessories Veils 3347- The Bridal Veil Company - Angel Cut Beaded Edge
Two-Tier/Three Tier Veil
Waltz Length Veil, also called Ballet Length Veil
Bel Aire Bridal Veils V7322 - 1-tier waltz length cascading veil with Venise lace edge
Bel Aire Bridal Veils V7251- One Tier Waltz-Length Lace Edge Veil
The Ballet veil also called the waltz veil is extremely flattering on brides wearing a fitted gown without a train. It is a beautiful long length, but doesn't overpower a delicate or body-hugging dress. The length of the ballet veil is approximately 45 to 60 inches long and falls somewhere between the knee and the ankle.
Chapel Length Veil, also called a Sweep Veil, or Full Length Veil
Chapel length veil, sweep veil and full veil are interchangeable names for the length of veil that just brushes the floor. The chapel veil typically measures between 70 and 90 inches, and it should extend 6 to 12 inches beyond the train of the gown. The Chapel Length or sweep veil is a great veil for a formal, elaborate gown with a chapel or sweep train. It is slightly shorter than the cathedral length veil, but they still drape onto the floor. Also, it is a great length have a multiple layer veil and combining the blusher veil and an elbow length veil.
Ansonia Bridal Veils & Accessories Veil Style 197L
Mantilla Style Veils
A mantilla is a circular veil made lace, silk or tulle with lace around the edge. It can be secured with a comb which allows the veil to frame the face and drape over the head and shoulders. The mantilla veil is typically associated with traditional devotional practices among women in Catholicism. You can request most of our veils to come with the comb for self attachment.
A mantilla veil is most appropriate for formal and semi-formal weddings held within a church, but can be worn at other ceremony locations as long as it coordinates with the wedding gown and the theme or type of wedding.
Erica Koesler Style 669-60
Bel Aire Bridal Veils V7175 - Waltz Length Mantilla - Alencon Lace
Giselle Bridal Veil SP194- Mantilla Cut Lace Veil
Horsehair Edge Veil - Fold Over Veil
Two Tier Scalloped Edge