Traditional Line Wedding Gown Preservation Kit
Condition:

New

Availability:

Fast Delivery To Your Home (USA Only) | The Only Preservation Service Trusted By Over 3 Million Brides.
Preserve your memory for lifetime. This is a door to door service and your dress is insured all the way to the factory. Order the service online and the kit plus detailed instructions are sent direct to you. You send it back UPS with the Free Pre-Paid Shipping Label that is trackable. Once the gown is received, you can track the gown online 24/7 within 7 to 10 days of the gown arriving with your very own Serial Number. If your local, set up an appointment to come in. Prices in store are higher.
Trusted Quality Service! Bella Mera Bridal is an Authorized Retailer & Dealer offering Wedding Gown Preservation Services:
100 Year Guarantee Against Future Yellowing

Cleaning and Preservation by top professionals

FREE Preservation of Up to 3 Additional Accessories (Garter, Bridal Purse, Veil, Gloves, etc.)

Complimentary 2-way Shipping with $500 Insurance

Track Your Gown 24/7 and know exactly what current process is happening

$500 Shipping Insurance Include in Price | Additional Insurance available

White Gloss Preservation Chest with Peek A Boo Viewing Window

Additional Box for the White Preservation Chest to nest in also included

Acid Free Tissue Paper & Preservation Bust to Maintain Form

White Glove Test to Inspect Your Museum Grade Preservation
How do you get started
Add the Service to your cart - Your kit will contain everything you need to securely pack your gown

If you want a larger box for your gown, $500 more insurance or if your gown is valued over $1,000, see our

Celebrity Line Package

Upgrade

The kit will be shipped direct to your doorstep within 2 - 5 business days, no spending time in traffic!

Open the kit, pack your gown, add the shipping labels to the box that are provided in the box

Call UPS or Drop it off at any UPS location, it's that simple, you can track the gown 24/7

You will also be to call the Factory directly during normal business hours to check the status
What happens after I send my gown in?
When your gown arrives at the wedding gown preservation facility it is given a unique serial number and a full thorough inspection for stains,dirty hem lines and loose beading. Your unique serial number allows you to track your gown as it is being cleaned and preserved. Once the gown is cleaned, Your gown is then safely and securely shipped back to your home with a 100 year certificate of guarantee against future yellowing or staining. You get the peace-of-mind in knowing your dress has become a treasured family heirloom to be enjoyed by future generations. The preservation process will be completed in 2 to 8 weeks after it is received, unless your order Rush Services.
Tell Me More:
You can have your gown shipped to another address

Best time to preserve is when your wedding is completed, your kit never expires

Your Gown is always safe, The completed kit requires a signature from a resident of your home and each kit comes with shipping insurance included to keep your mind stress free

Extra insurance is $2.00 for each $100 of extra insurance you'd like to add.

98% Of Stains are removed from the dress
The Gown Preservation Company puts the highest degree of professional care into the heirloom processing of your gown. First your gown is carefully examined to find all spots. A detailed Quality Control Report is updated through each and every step. Proven formulas are used to remove spots and treat the entire gown for sugar stains. Your gown is thoroughly cleaned with extra attention given to the neckline, trim and hemlines. Our experts shape the gown, position a full bust form and fill the sleeves. It is then wrapped in unbleached muslin, and fitted carefully into a premium preservation chest with an acid-free display window. The preservation chest is then enclosed in a 700 pound test shipping carton. Your gown is then shipped back to you pre-paid anywhere in the Continental United States via UPS Ground. The preservation process will be completed in 2 to 8 weeks after it is received.
More Questions? Support@BellaMeraBridal.com | 888-200-7820
The 100 year warranty protects your gown against future yellowing for 100 years. In the event that you feel your dress has yellowed, the Wedding Gown Preservation Company will re-clean and preserve your gown at no cost to you. You can have your gown shipped to another address Best time to preserve is when your wedding is completed, your kit never expires
WE OFFER RETURNS FOR MOST MERCHANDISE WITH A RETURN FEE (*Returns have to be requested within the time frame listed in the policy*)
https://www.bellamerabridal.com/return-policy/
All 120"Long veils & and longer are final sale and non-returnable, Erica Koesler is final Sale and most items have a 20% return Fee
(*If your bulk buying, the policy is not the same for you. Bulk Buying is when several pieces of the same item or like items are purchased for trying on/use purposes to return, please see the policy*). For example, buying 4 tiaras to see which one fits best or 3 cathedral veils in 3 colors to try on with your dress, we will accept back one item and not all in this case. We don't have try on services for merchandise and only sell new merchandise. Thanks in advance.

Shipping
We offer FREE US Shipping on most over $99 and several FLAT RATE Shipping rates at checkout in addition to UPS rates. Any Free Shipping offer is standard USPS Mail with tracking. Your responsible for requesting insurance to insure your package against any damage or loss. Free shipping is 2-7 business days to arrive to you, after processing time. Upgraded shipping options are available at checkout and at your expense. Note - Upgrading your shipping to overnight, does not mean your merchandise ships to you that next day. If you choose overnight shipping. your items will ship once the processing times has passed or sooner, and the shipping method would be overnight. Every item has a processing time, if your unsure, please ask. **Keep in mind the upcoming holidays and delays/closures can occur with Christmas out of our control.

*****Bridesmaids Ship Dates****
---Designers reserve the right to adjust their ship dates as demands require ---Designers reserve the right to change a date that we have posted; and we would contact you about this if a change occurs ---Designers charge a rush fee to have your dress made quicker if the factory changes your ship date ---Deliveries are considered on time within a 2 week window, you should order rush if you want a more secure date ---Delivery Dates are updated every week & if a change occurs with your date, we will contact you

International
We do ship international and rates are available at checkout, if you require a quote for Postal Rates, please email your full address and what your purchasing for rates. When purchasing products outside of your country, you may be subject to import duties and taxes, which are levied once a shipment reaches your country. Any import duties, taxes or brokerage fees due at the time of delivery are the sole responsibility of the receiving customer. The shipping fee you prepay us is only for shipping from us to you and DOES NOT include custom, duties or your countries taxes.
Processing Times
Please see your product details for processing times frames, if you require something sooner then listed, please add rush to your cart or contact us. If your item states it will be available in 2 to 5 weeks. This means your merchandise will ship out to you anytime no sooner then 2 weeks and can ship out late as 5 weeks from Bella Mera Bridal. If you place an order on the weekend, your days start on the next business day. If your event falls very close to the processing time, please order rush, they don't always ship exact 2 weeks. Rush would be an upgraded service to get the merchandise to you faster. You will also need to factor in shipping time to you approx 2-5 days for free shipping with tracking or you can choose your own option at checkout. Most items like Bel Aire, Ansonia Bridal, Elena, Marionat and Erica Koesler will be ready to go out 2 to 5 weeks from the date of order or add rush to your cart, we have many items that can ship in less then 10 days

Rush Orders
Rush order simply means that Bella Mera Bridal/Manufacturer/Designer cuts or produces your product/order sooner than the normal production or processing time in a much faster time frame. Processing time does not include shipping transit time. If you pay for a 2 week rush and 2 day UPS that would mean, we ship it out within 2 weeks and the method will be 2 day UPS. Rush is a service that is optional and shipping is for freight costs only. When you pay for Rush that DOES NOT include shipping fees.
Bridesmaids Dresses
Most bridesmaids are custom made for you within the time frame shown on your product, please add rush to your cart if you require the designer make your dress sooner. All rush fees are non-refundable and orders cannot be changed or cancelled.

Size info
It is always best to have an alterations expert, seamstress or someone else take your measurements using a soft cloth measuring tape. It is not good to pull the measuring tape tight, instead make sure that it loose by at least one finger, this will ensure the best fit for you. Remember for a perfect fit, most dresses will need to be altered such as bust, taking in the sides and hem line. Length is very important because it is very difficult to extend the length, unless there is extra fabric tacked down. If you are 5"7-5"8 & over, be sure to order extra length unless you know for sure the standard length will work.

Most size charts are listed on the item if you require one, you will see a "size chart" button to the right of the product. If you cannot locate the size chart, please visit here: https://www.bellamerabridal.com/find-size-charts/

If you want to watch a sizing video or find F.A.Q.s about sizing, visit here - https://www.bellamerabridal.com/how-to-measure/
Tracking
When your package is ready to be shipped to you. You will receive an order status message and your online account will be changed to "shipping in 1-3 days". This indicates your merchandise will ship within 1-3 days after that. When it has shipped, you will get another message with the tracking number and you can log in to see the tracking number once you have been notified it's been shipped. If you received your shipped email, it was located inside that email.

Other Info
In Store Pick up is available on any order $499+ with the same processing times listed online. When you place an order, the order is non-cancellable or changeable. We process orders as they come in and submit orders asap to manufactures for special orders.

Most items are returnable with a return fee by requesting a return within 10 days of item showing delivered by the carrier and Milano Dresses within 3 days. See the return policy here - https://www.bellamerabridal.com/return-policy/

If you have more questions, before placing an order, please feel free to contact us via at Support@BellaMeraBridal.com, phone or live chat.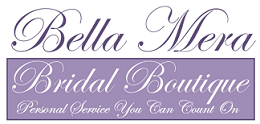 (Promotions are offered for Online Orders Only)
Only one promo code can be used per order at the time of the original order. We cannot apply to an order already placed or change coupons applied. Savings will be reflected in your shopping cart. Discounts cannot be applied to shipping and processing, taxes, previous purchases or some products that are excluded, unless otherwise specified. Discount prices on products are valid for initial purchases and the same discount will not be offered for a return order and then a new purchase. Additional charges may apply for shipping heavy items. Free offers only valid when show and offers can change anytime unless otherwise specified with a date on the promotion below.